Carnival Party for children and adults
12 divine reasons to come to Hellenic Semester Carnival Party
1st of March - JRC New Mensa: 18.00-21.00 children zone and 21.00-02.00 main party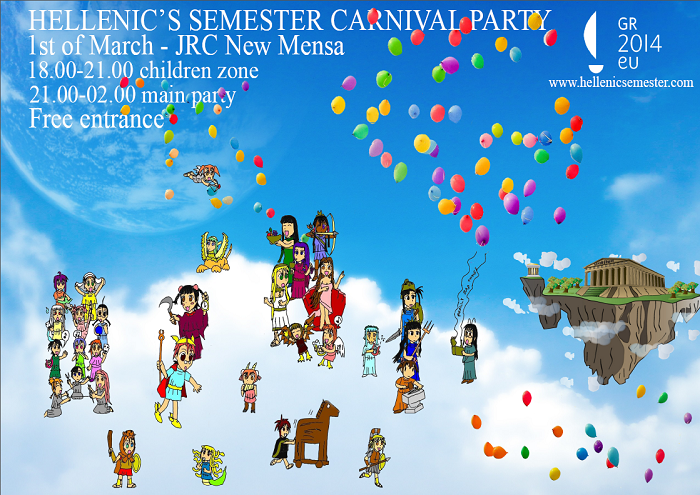 Zeus .. because you will be our GUEST! Free entrance!
Dionysos .. because there will be a lot of Greek WINE! (beer, prosecco and aperol spritz also)
Apollo .. because David, Stavros and Francesca will play MUSIC!
Hephaistos .. because the floor will be on FIRE!
Poseidon .. because the party will create a TSUNAMI of fun!
Demeter .. because ENVIRONMENTALLYfriendly glasses and plates will be used!
Artemis .. because we will HUNT for the best costume and reward it!
Aphrodite .. because BEAUTIFUL women from all over the Europe will be there!
Ares .. because you have to FIGHT to get one of the Greek food dishes!
Hera .. because, if you are not MARRIED, you might find your partner there!
Athena .. because is a WISE choice to be there!
Hermes .. because the NEWS of the party will spread all-over Europe!
" Please note that the use of confetti/coriandoli and sprays is forbidden inside the Mensa! "
INFO on FOOD: During the children zone we will serve Greek finger food which includes salty dishes with greek pies, meatballs, feta cheese, eggplant salad and tomato as well as greek desserts (mpaklava-kataifi). Food vouchers will be on pre-sale at the mensa during lunch time for 10euro each and they will include 1 salty dish, 1 dessert dish and 1 glass of juice (bio).
Contact: carnival@hellenicsemester.com
Hellenic Semester 2014-Ispra